Adin is a Proud Member of :
Antwerp's Most Brilliant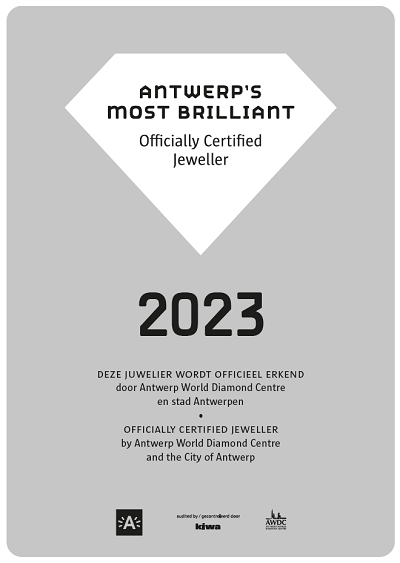 Adin gives you a warm welcome in Antwerp. This beautiful city which is famous for years for its diamond dealers and jewelers. We hope that you can go through pleasant time and welcome you here in the heart of the diamond district in our cozy shop, Adin Antwerp -the fixed value for valuation and sale of antique and vintage jewelry.
After more than thirty-five years of insatiable interest in antique jewelry is the impeccable reputation of manager Elkan Wijnberg grown from Antwerp quay an internationally recognized value in many associations jewel historians. This translates into a high-quality collection we also offer worldwide via the Internet.
During a visit to Adin will turn soon became clear that not wearing vintage and antique art only provides a historical contribution, but demonstrates a lifestyle statement. Whether you prefer the refined aristocratic richesse of the Victorian era or the robust geometry of Art Deco: You will find we are style beads, each with its own story. The refined lines of the Art Nouveau period or unique vintage jewelery from the swinging fifties and sixties: our professional and helpful team will guide you through each period.
We still find it a privilege to be with you to take up this quest, to match the craftsmanship of yesteryear to your story. Because this story is unique in our eyes where it's at jewelery is all about. They add listen to the highlights in your life and mark life events in all beauty. And how better than with an authentic jewel of history and character?
Our noble aim antique jewelry to assign the value they deserve to be supported and strengthened by the label of "Antwerps Most Brilliant":

"As manager of this jewelry store, I hereby declare on my honor that I will always work in accordance with the requirements of the quality label 'Antwerp's Most Brilliant' and assure that my employees are aware of these requirements and will act to it."

Elkan Wijnberg.
More Info ?
Antwerp's Most Brilliant wesite