Retro jewelry
(1935-1950)
Adin Offers an extensive 40s, 50s & 60s retro style jewelry collection. Find interesting jewellery pieces like retro engagement rings, earrings or bracelets.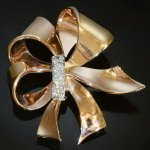 See our: Retro jewelry.
The Retro style was strongly influenced by its predecessor: the Art Deco style. Using the same type and language of geometrical shapes but with bolder heavier lines, shapes and stones. Typical for Retro style jewelry is its imitation of three dimensional folds of fabric with the ribbon bow as its most popular motif, often highlighted in the center with a calibré cut ruby or sapphire knot (mostly lab-produced stones were used (see also Verneuil rubies and sapphires) and diamonds in various cuts as white accents. Another typical motif for this period is the tankbracelet (based on a tank caterpillars).
Inspired by Hollywood of the 40s, 50s and 60s, retro jewelry is colorful, bold and elaborate. Most commonly worn were large cocktail rings, bracelets, watches, necklaces and charm bracelets.
That gold regained its popularity during the Retro period was due to the fact that platinum was not available to the goldsmiths and jewellers since this was being used for the war effort. This was the main reason that during the Retro period different colors of gold became popular - yellow gold was combined with rose gold and green gold in striking combinations. In France goldsmiths worked with no less then 27 shades of colors of gold.
The most popular gemstones seen in Retro jewellery are aquamarine, citrine, topaz, large cabochon-cut rubies and sapphires (including star stones), golden beryl, peridots and tourmaline. Not uncommonly, gems used were exceptionally large in order to reflect the scale of the jewelry.
Adin's collection houses some very interesting 40s, 50s & 60s restro style jewelry. You'd be suprised to see how easy it is to find some exquisite retro engagement rings.
Want to know more about antique jewelry styles? Go to our antique jewelry style overview.
Select your category of
Retro Jewelry: