Birth stones December:
turquoise and zircon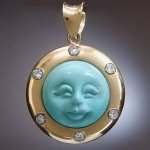 See our: turquoise jewelry.
See our: zircon jewelry.
Characteristics attributed to people born in December:
loyal and generous
patriotic
active in games and interactions
impatient and hasty
ambitious
influential in organisations
fun to be with
loves to socialise
loves praises
loves attention
loves to be loved
honest and trustworthy
not pretending
short tempered
changing personality
not egoistic
takes high pride in oneself
hates restrictions
loves to joke
good sense of humor
logical
To learn more about precious stones and their ascription, click here.