Birth stones March:
aquamarine & jasper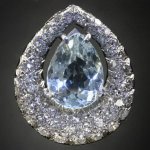 See our: aquamarine jewelry.
See our: jasper jewelry or also called bloodstone jewelry.
Characteristics attributed to people born in March:
attractive personality
affectionate
shy and reserved
secretive
naturally honest, generous and sympathetic
loves peace and serenity
sensitive to others
loves to serve others
not easily angered
trustworthy
appreciative and returns kindness
observant and assess others
revengeful
loves to dream and fantasize
loves travelling
loves attention
hasty decisions in choosing partners
loves home decors
musically talented
loves special things
moody
To learn more about precious stones and their ascription, click here.