Antique jewelry glossary
Welcome to our extensive antique jewelry glossary with around 1,500 jewelry related entries.If you feel you are missing an explanation, feel free to let us know and we will add it.
A - B - C - D - E - F - G - H - I - J - K - L - M - N - O - P - Q - R - S - T - U - V - W - X - Y - Z all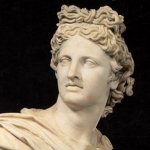 Apollo
See our: jewelry with Apolloor our mythological jewelry.
In Greek and Roman mythology, Apollo is one of the most important and many-sided of the Olympian deities. The ideal of the kouros (a beardless youth), Apollo has been variously recognized as a god of light and the sun; truth and prophecy; archery; medicine and healing; music, poetry, and the arts; and more. Apollo is the son of Zeus and Leto, and has a twin sister, the chaste huntress Artemis. Apollo is known in Greek-influenced Etruscan mythology as Apulu. In Roman mythology he is known as Apollo.
Our King Apollo, child of mighty Zeus, when you were born your father gave you a gold headband and a lyre of tortoise shell, and more: a chariot drawn by swans. You were to go to Delphi and the Kastalian spring whose waters are the gift of broad Kephissos, and there deliver justice to the Hellenes through the oracles.
But when you seize the reins, you made the swans sail north to the distant land of the Hyperboreans, and the Delphans begged you to return with paeans of flutes and circles of girls dancing about the tripod. Apollo, you remained to rule that people through the long year. Came the season when the tripod rings loud and clear in Delphi, you turned the swans to Parnassos. It was high noon of summer When you glided back from the far Northlands; swallows and nightingales were singing; cicadas also sang about you; silver brooks poured down from Kastalia, and the great river Kephissos Threw blue-foaming waves into the bright wind: yes, even the waters knew a god was coming home.
See also: Olympian gods
From: Wikipedia